Looking for things to do with your dog while you vacation in the Coachella Valley? Here are some of our favorite places, attractions, and restaurants that welcome both people and dogs.
Fido can come along because there's no extra room charge, no room deposits, no size limits, and no breed restrictions
Hiking Trails and More
The Wildlands Conservancy's Mission Creek Preserve
Located in a transition zone between the Sonoran and Mojave deserts, the 4760 acre Mission Creek Preserve has a rich species composition, with flora and fauna representing both deserts. Visitors are surprised to discover the center of the preserve is a lush wetlands juxtaposed with extensively eroded painted hills and Mount San Gorgonio looming in the background. The wetlands and perennial stream are important habitat the endangered least Bell's vireo and southwestern willow flycatcher. The preserve hosts deer, bear, big horn sheep and mountain lions and has spectacular displays of spring wildflowers in wet years. The preserve trail system leads onto the Pacific Crest Trail which is two miles from the stone house group campground.
Dogs allowed in Preserve. Must be on leash at all times. Please clean up after your dog.
---
The Wildlands Conservancy's Whitewater Preserve
Whitewater Preserve is 2,851 acres surrounded by the Bureau of Land Management's San Gorgonio Wilderness, and includes the year-round Whitewater River. Rich riparian habitat hosts the endangered Southwest willow flycatcher and Bell's vireo, and provides opportunity to see migrating summer tanagers and vermilion flycatchers. The canyon has a robust population of bighorn sheep, deer and bear, and is an important wildlife corridor between the San Bernardino and San Jacinto Mountains. The Conservancy purchased an additional 3,200 acres in the Whitewater corridor that was donated to the Bureau of Land Management. These donated lands include sand dunes that are home to the endangered fringe-toed lizard at Windy Point, which lies at the confluence of the Whitewater and San Gorgonio Rivers.
Dogs allowed in Preserve. Must be on leash at all times. Please clean up after your dog.
---
Off Leash Dog Park Palm Springs Dog Park
Palm Springs Dog Park is a beautifully landscaped 1.6 acres of fenced-in rolling grass with fire hydrants, dual purpose canine/human drinking fountains, picnic tables and benches made from recycled materials, shade structures and solar night lighting. Park is open 24/7. Unique fence designed and built by artist Phil Evans and double-gated for safety.
Enclosed play area for small dogs and generous playground for larger, more active hounds. Location: Behind City Hall (222 Civic Drive) off Tahquitz Canyon Way (3200 E) – near Palm Springs Airport.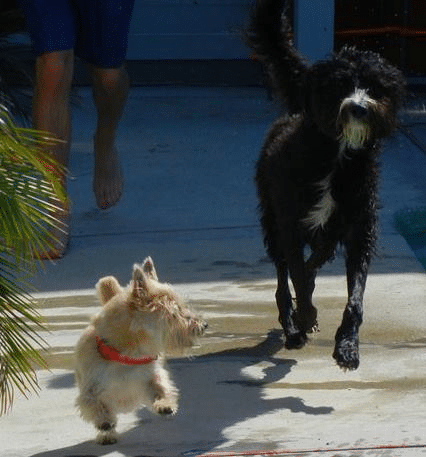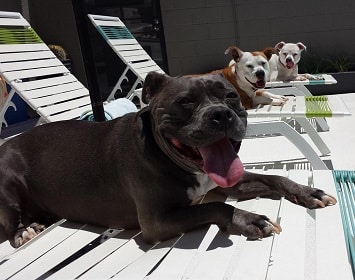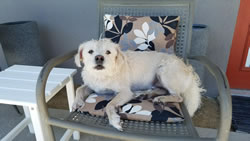 Dog Friendly Eateries with Outdoor Patios
Palm Greens Cafe:
611 S. Palm Canyon Drive, Palm Springs, CA: Healthy delicious food, using flavors from around the world. All entrees prepared with high quality, organic ingredients. Vegan, and gluten free options available. Peewees Puppy Patio is an outdoor delight – bring your dog!
---
1775 E. Palm Canyon Drive: Attractive vegan restaurant with a tasty menu that would satisfy any meat eater – a transforming experience! Eat smarter for better health and decrease your carbon footprint! This is our favorite place for lunch and dinner!
---
555 South Sunrise Way: Shop and grab a bite to eat. Nice assortment of vegan and vegetarian foods with 2 patios to enjoy. Wide variety of breakfast and lunch menu items. Picnickers can order to go!
---
260 N. Palm Canyon Drive: A few tables and chairs in front of this perennial favorite pizza parlor right on the main drag in Palm Springs – makes for good people watching!
---
134 S Palm Canyon Drive: A popular downtown coffee shop with nice mountain views!
---
664 N. Palm Canyon Drive, Palm Springs 92262: Hip, casual Euro-style bistro in the Uptown Design District of Palm Springs. Dine al fresco in our charming, dog-friendly courtyard or intimate dining room while enjoying our chef-inspired originals and gourmet comfort foods, along with a full bar and interesting wine selection.
Desert Hot Springs Inn invites guests and travel aficionados to an exceptional and exclusive private vacation experience.
Image Gallery
Reservations