About Desert Hot Springs Inn
67840 HACIENDA AVENUE, DESERT HOT SPRINGS CA 92240
RESERVATIONS
760.600.0246
Landscaped by natural desert beauty, our mid-century modern, natural hot springs Inn is a pleasurable stay for people, friendly dogs, people who enjoy canine companionship, and those wishing to live a healthier lifestyle swimming and soaking in natural hot mineral waters.
Our therapeutic waters attract spa enthusiasts from around the globe. For year-around pleasure, the pool (85° F) and bubbling spa (102° F) are naturally heated by underground hot mineral water – guaranteed to melt away stress.
"Relax poolside and enjoy our beautiful desert sunshine"
John Thatcher, the Innkeeper of Desert Hot Springs Inn, brings a fresh spirit of hospitality to our boutique hotel. As a life-long dog lover and public relations professional, John is dedicated to providing our guests a comfortable stay and a memorable vacation experience.
"Desert Hot Springs Inn has beautiful views of the San Jacinto, San Bernardino, and Santa Rosa mountains, with panoramic views of the Coachella Valley desert"
We are the Most Pet-Friendly, Natural Hot Mineral Waters Hotel in the Palm Springs Area!
Dogs are like family, so there are no additional fees to bring them along. No extra room charge, No size limits, and No breed restrictions. Our private Dog Park overlooks full range mountain views by day and dazzling city lights by night. Our outdoor areas will set the mood while you gaze at the stars, tell stories, and let your inner dog howl at the moon.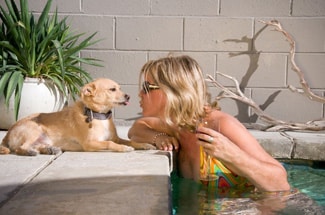 Nestled in the foothills of Joshua Tree National Park, Desert Hot Springs has also become a natural attraction for nature lovers, trail hikers and rock climbers. Golf, casinos, entertainment, museums, shopping, and world-class restaurants await your discovery in the nearby star-studded town of Palm Springs – only 15 minutes away!
Our guest rooms offer stunning views of the San Jacinto and San Gorgonio mountains. Each room opens to our secluded pool/spa courtyard through French doors. Our private backyard park overlooks full range mountain views by day and dazzling city lights by night and gazing at the stars, tell stories, and watch the beautiful desert moon traverse the night sky.
Desert Hot Springs Inn invites guests and travel aficionados to an exceptional and exclusive private vacation experience.
Image Gallery
Reservations